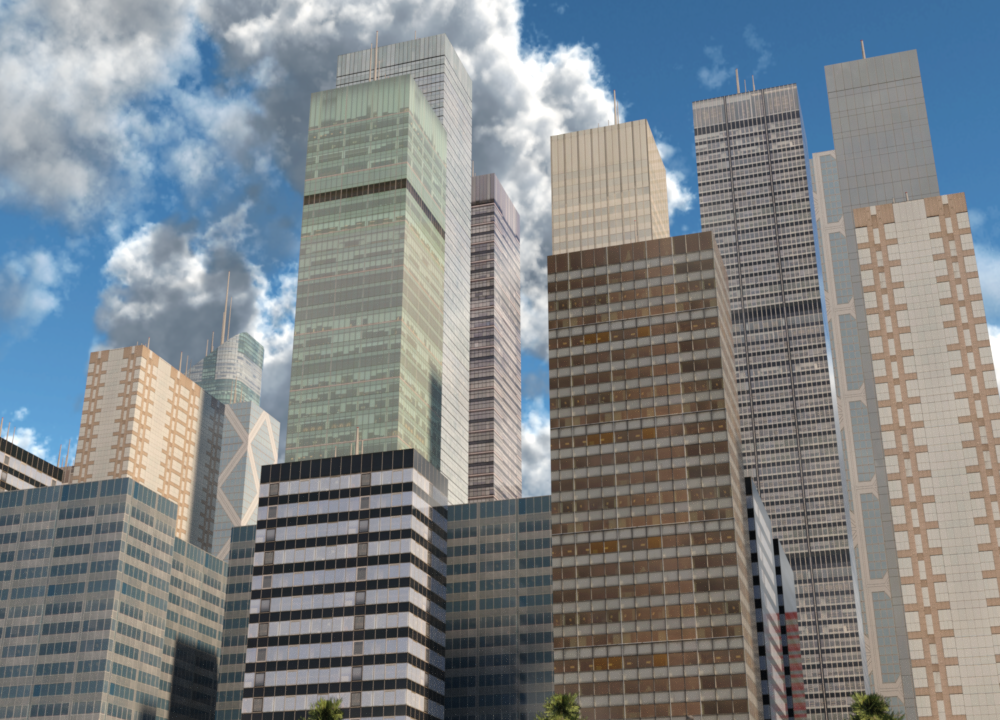 Europa was the last of the original Megacities to be established on the destruction of an earlier city. In this case it was Paris. Whilst historians would later comment that the replacement for the fine architecture of the city that once stood there had been lost to faceless monoliths of glass and style,  modernists would praise the new style.
Construction of the city started not long after work had began on Pacifica. With the lessons learned from Atlantica, a similar styles open style to Pacifica was employed in the city layout. By far the most dominant feature of the skyline is the towers that make up the financial district.
Surrounding these areas are the residential districts which includes parks and malls, and the smaller industry sectors pushed to the outskirts.
Transport
A city geared towards business, Europa has quite an extensive public transport network which include bus routes, tramway, and underground railway and direct rail links to most parts Europe. Whilst a single main airport serves the entire city it has sufficient capacity with four runways.
Commerce
Europa is regarded as the financial centre of the world, with almost every bank from around the world having some sort of office in the city. Big businesses also have  headquarters here  and the main  "trade" here comes via the stock exchange that is located in the heart of the district.
Law and Order
Though most visitors to Europa are not tourists the city attracts other types of nefarious types, primarily white collar criminals. and fraudsters.  Typically police detectives in Europa generally have to have good business acumen as well as a nose for solving crime. The large money transfers  in an around the financial district also attract organised crime so the Europa Police Department had to establish several armed response divisions to deal with the threats such people pose to the general public.